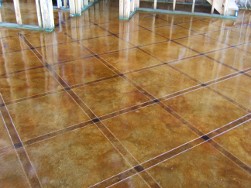 Concrete Staining & Overlays
Staining is a decorative art form that is rapidly gaining popularity with property owners, architects, and contractors. Staining can be applied to your new or old concrete in your choice of colors. This gives an exotic look to your patio, porch, pool deck, or interior concrete while remaining low-maintenance.
If your older concrete is unable to accept the stain properly, we can apply an overlay onto your concrete, which will allow for proper staining.
Scoring Services
Our scoring service allows us to create any desired pattern you want, including tile, brick, and slate patterns as well as borders and logos.